---
Hellbastard is a name that I thought I wouldn't see again. I associate it with the album 'Natural Order' which I has on a cassette tape around twenty years ago (and still think I might have down in my basement – but since I haven't got a cassette player any more, it wouldn't make much sense to dig it out.
I listened to that tape a lot at the time, I think mainly because they at the time represented a sound and attitude that was less polished than the US and German thrash bands. What was to become labelled Crust was in actual fact thrash with a slightly more punk edge and attitude.
Where Metallica and their clones were critical of the system and the wars, etc., a band like Hellbastard would have a less mainstream politically correct approach and rather air an anarchistic directness.

For me personally, it wasn't 'Natural Order' that eventually made it into the hall of thrash fame. Let me put it like this: I can't remember any of the tunes from 'Natural Order' today whereas Metallica, Anthrax, Slayer and Megadeth's entire back catalogues are pretty clear to me…

Although an honest and direct attack on the establishment, 'The Need to Kill' is likely to suffer the same cruel fate. Excellent for a round of moshing, with Slayer inspired riffs (try Murder Workshop as a prime example of this) with much precision, the tunes on here would have kicked our arses twenty years ago, but today less so.

Oddly enough, the strongest track from the album in my opinion is the instrumental Anthropological Angst II. I always loved when thrash bands did instrumentals – and this is no exception. Nice one.
Hellbastard
Eco War EP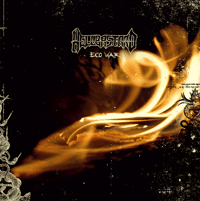 Released on the same day as 'The Need to Kill', the 'Eco War' EP is really just the kid brother of the album and as such more of a curiosity rather than a real necessity in your collection. The initial instrumental, Gone Postal, is fine, but the next couple of tracks, Sea Shepherd and Woe, the People, struggle desperately to make it past the quality assurance department. Massacre I reckon is one of Hellbastard's demo songs and as such a treat for old fans. Nothing special, really, for those of us who heard the tune for the first time.
A cover of Slayer's Die by the Sword is an interesting move and does score some points on the nostalgia scale.
Last track, Kick the Geordie, is someone's kid playing the drums and shouting Kick the Geordie. Eh?
---