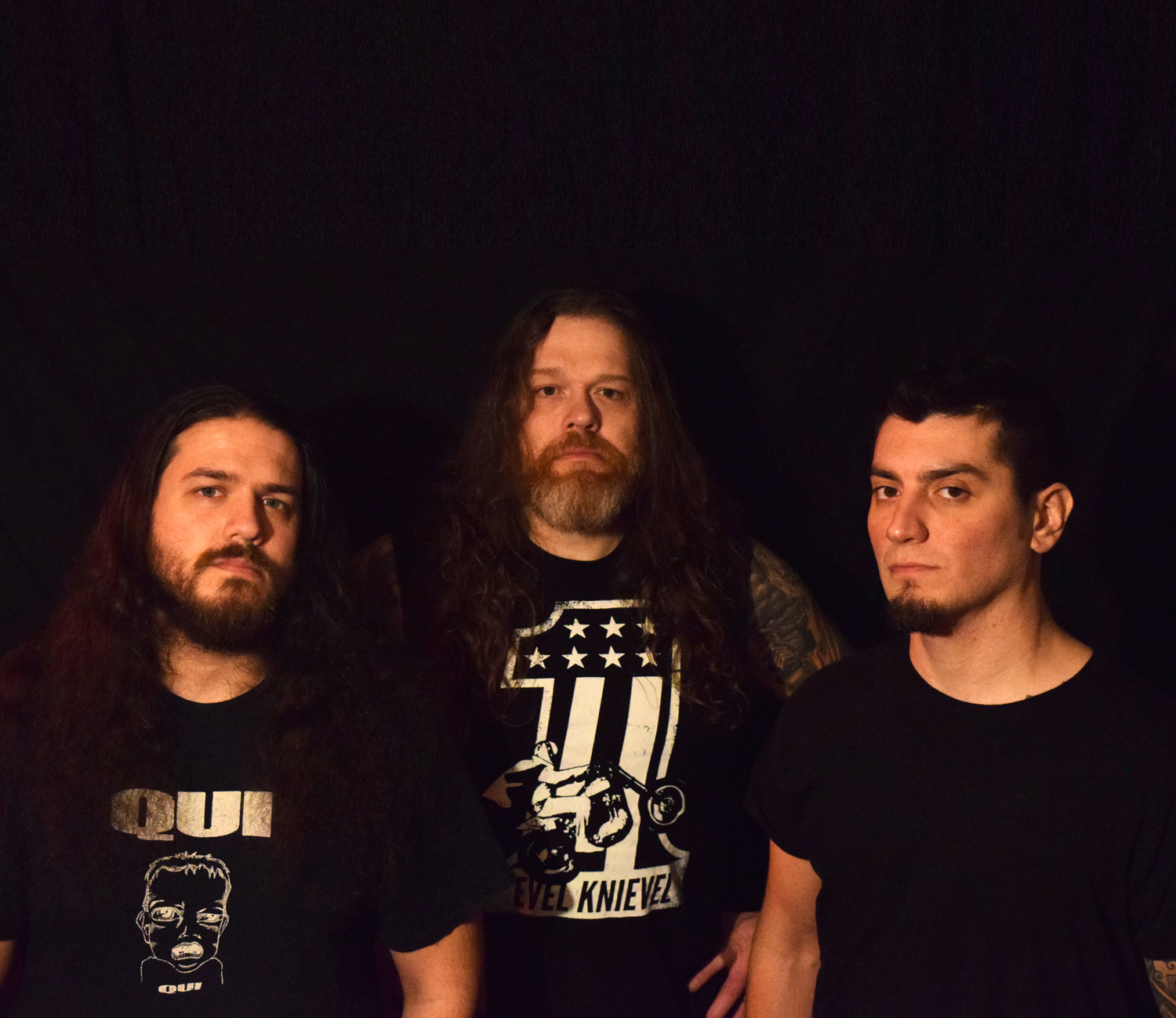 "The title track is a bluesy, fun rocker, demonstrating exactly why MOS GENERATOR hasbecome a fixture in the underground." — Decibel
Stream / Share MOS GENERATOR's "Shadowlands" HERE
"Shadowlands" is the anticipated new full-length from Washington-based heavy rock trio MOS GENERATOR. Set for release next month, the eight-track studio offering was recorded in three sessions – June 2017, November 2017 and January 2018 – at the HeavyHead Recording Company in Port Orchard, Washington and comes swathed in the cover art of Adam Burke (Pilgrim, Satan's Satyrs, Hooded Menace, Artificial Brain et al). In advance of its release, Decibel Magazine is offering up Shadowlands' title track for public feasting.
Notes founding guitarist/vocalist/principal songwriter Tony Reed of the tune,
"'Shadowlands' was the first song written for the new album and the only new song to have a regular spot in our set list over the last year. I think this song is the best choice to represent how MOS GENERATOR has developed over the past few albums. The track gently fuses many styles into one seemingly direct hard rock song that brings together my love of rock, prog, and power pop. It's a ripping heavy rock tune that shuffles and breathes. A great combo."
Adds Decibel,
"Since their inception in 2000, [MOS GENERATOR has] become an indispensable part of the stoner/heavy rock underground and latest offering Shadowlands — which features new bassist Sean Booth and new drummer Jon Garrett — keeps them steadily on that course. The title track is a bluesy, fun rocker, demonstrating exactly why MOS GENERATOR has become a fixture in the underground."
"SHADOWLANDS"
PREORDERS ARE AVAILABLE HERE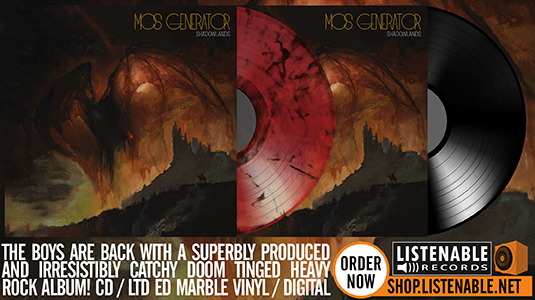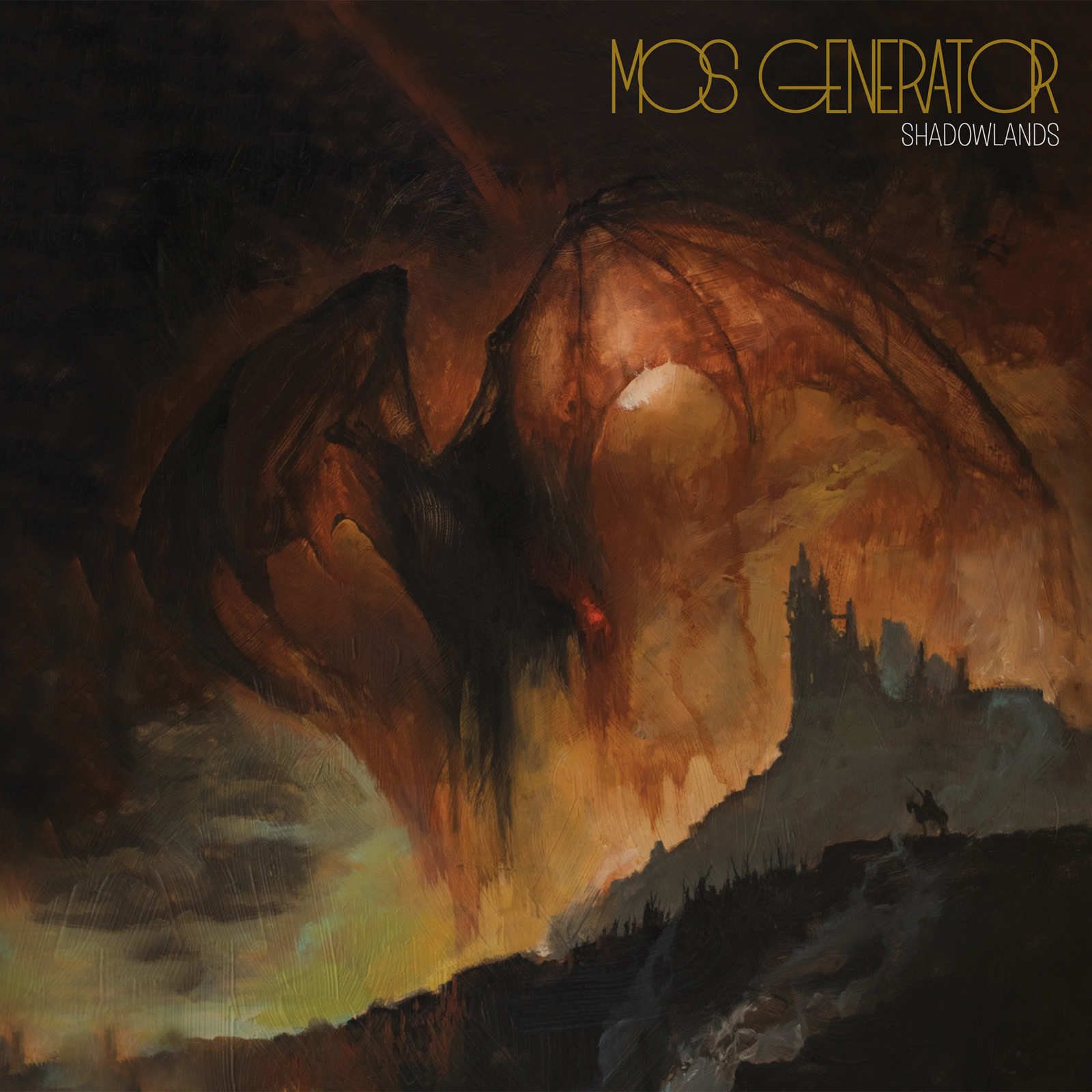 TRACKLISTING:
01 – Shadowlands 04:34
02 – The Destroyer 04:28
03 – Drowning In Your Loving Cup 03:40
04 – Stolen Ages 07:26
05 – Gamma / Hydra 03:23
06 – The Blasting Concept 04:30
07 – Woman Song 04:22
08 – The Wild & Gentle Dogs 07:24
BAND LINE UP :
TONY REED
SEAN BOOTH
JON GARRETT
MOS GENERATOR will take on month-long, cross country US tour. Set to commence on April 20th, the Road Rats Tour 2018 will run through May 26th and includes sixteen dates supporting Fu Manchu!
ee all confirmed shows below.
MOS GENERATOR:
4/20/2018 Hogfish – Couer d'Alene, ID
4/21/2018 Rocky Mountain Riff Fest – Kalispell, MT
4/25/2018 The Valley – Tacoma, WA
4/26/2018 The Haul – Grants Pass, OR
4/27/2018 Thee Parkside – San Francisco, CA
4/28/2018 Dive Bar – Las Vegas, NV
4/29/2018 Alex's Bar – Long Beach, CA
4/30/2018 The Kraken – Cardiff, CAw/ Fu Manchu:
5/01/2018 Rebel Lounge – Phoenix, AZ
5/03/2018 Curtain Club – Dallas, TX
5/04/2018 Barracuda – Austin, TX
5/05/2018 White Oak Music Hall – Houston, TX
5/07/2018 Vinyl – Atlanta, GA
5/08/2018 Kings – Raleigh, NC
5/09/2018 Rock & Roll Hotel – Washington, DC
5/10/2018 Brillobox – Pittsburgh, PA *
5/11/2018 Underground Arts – Philadelphia, PA
5/12/2018 Bowery Ballroom – New York, NY
5/13/2018 Brighton Music Hall – Allston, MA
5/14/2018 Mohawk Place – Buffalo, NY *
5/15/2018 Grog Shop – Cleveland, OH
5/16/2018 Ace Of Cups – Columbus, OH
5/17/2018 El Club – Detroit, MI
5/18/2018 The Baby G – Toronto, ON *
5/19/2018 Bottom Lounge – Chicago, IL
5/20/2018 Total Drag Records – Sioux Falls, SD *
5/22/2018 Streets of London Pub – Denver, CO
5/23/2018 Streets of London Pub – Denver, CO
5/25/2018 Substation – Seattle, WA*
5/26/2018 The Manette – Bremerton, WA **
* MOS GENERATOR only