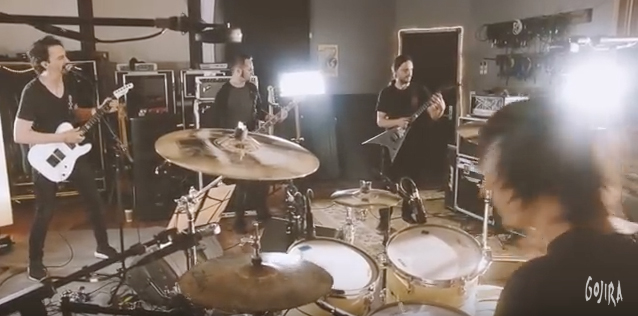 GOJIRA SIGN WITH LISTENABLE AGAIN FOR THEIR BACK CATALOG
Listenable records is very honored to announce that GOJIRA have prolonged licencing rights with the label for the albums 'From Mars to Sirius' , 'The Link' and 'The Link Alive' initially released by Listenable as well . 'The Way of Al Flesh' is also still available.
The band comments :
« We're delighted  to announce that we've signed a new deal with LISTENABLE records and we keep on working with them as regards to our back catalog, they've done an amazing work throughout the years and have remained close friends to us; new gorgeous vinyl editions are being released and we're all psyched !. »
The band recently released a brand new video of the song 'Global Warming' originally released on their now classic album 'From Mars to Sirius' :
«A few months ago, we played 'Global Warming' together for the first time since the recording of From Mars To Sirius (2004). We 'd never played it live before, as it is a challenging one to play, and place in a set list. It's emotionally heavy, and would almost "hurt" the rest of the songs in a way. We just really wanted to do this on camera for our fans. Global warming is a reality and a relevant topic "
'Global Warming' video was recorded at the band's own Silver Cord Studio in New York last April. and engineered and mixed by Johann Meyer.It was filmed by Anne Deguehegny and Bunny and edited by Anne Deguehegny and Mario Duplantier.
Watch the video HERE
Check GOJIRA exclusive vinyl, cds, merchandise HERE!