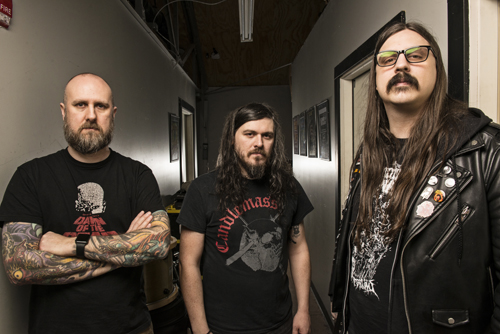 "The slow slaughter proves to be an ode to beating all that wallows with a battle axe." — Invisible Oranges Stream / Share FISTER's "No Spirit Within" At THIS LOCATION
"Both instrumentally and thematically," issues the esteemed blog, "No Spirit Within could be used as evidence of how grittier doom units read almost like half-speed powerviolence. The slow slaughter proves to be an ode to beating all that wallows with a battle axe."
Read more and succumb to the obliterating sounds of No Spirit Within, courtesy of Invisible Oranges, at THIS LOCATION.
Hailed for its "slow, trudging-and-grudgingly evil riffs," by Metal Injection, FISTER's "No Spirit Within" was recorded, mixed, and mastered by Gabe Usery at Encapsulated Studios in St. Louis.  Manifesting a sound so poisonous, polluted, and nihilistic that "sludge," "doom," "funeral," and "death" are the only words close to suitable in description, on "No Spirit Within" the Midwestern outfit are overpowering and relentless at a city-leveling volume like a Sisyphean artillery brigade cursed to push two hundred tons of speaker cabinets uphill forever.
FISTER is currently in the midst of a European tour with Sacramento doom unit Chrch. The journey commenced on May 2nd and will roll through May 16th.
See all confirmed dates below.
FISTER w/ Chrch:
5/04/2018 Northern Discomfort – Copenhagen, DK
5/05/2018 Vera – Groningen, NL
5/06/2018 Desert Fest – Banury, UK
5/07/2018 The Wheatsheaf – Banbury, UK
5/08/2018 Nice N Sleazy – Glasgow, UK
5/09/2018 Head Of Steam – Newcastle, UK
5/10/2018 Temple Of Boom – Leeds, UK
5/11/2018 Magasin4 – Brussels, BE
5/12/2018 Halle Am Rhein – Cologne, DE
5/13/2018 Kafe Kult – Munich, DE
5/14/2018 Freakout Club – Bologna, IT
5/15/2018 L'Usine – Geneva, CH
5/16/2018 JuHa West – Stuttgart, DE
The album was recorded, mixed, and mastered by Gabe Usery at Encapsulated Studios in St Louis, Missouri Listenable Records is releasing "No Spirit Within" (CD/LP/Cassette) on the 27th of April in Europe and the 18th of May in the US
TRACKLISTING:
1. Frozen Scythe 01:53
2. Disgraced Possession 09:46
3. Cazador 07:20
4. I Am Kuru 05:05
5. No Spirit Within 12:00
6. Heat Death 03:40
7. Star Swallower 09:00
BAND LINE UP :
Kenny Snarzyk
Kirk Gatterer
Marcus Newstead