The Swedish death metal band Feral has released the following statement:
GET READY FOR "FLESH FOR FUNERALS ETERNAL"
Swedish death metal band FERAL are proud to reveal the cover art and title of our upcoming album "FLESH FOR FUNERALS ETERNAL".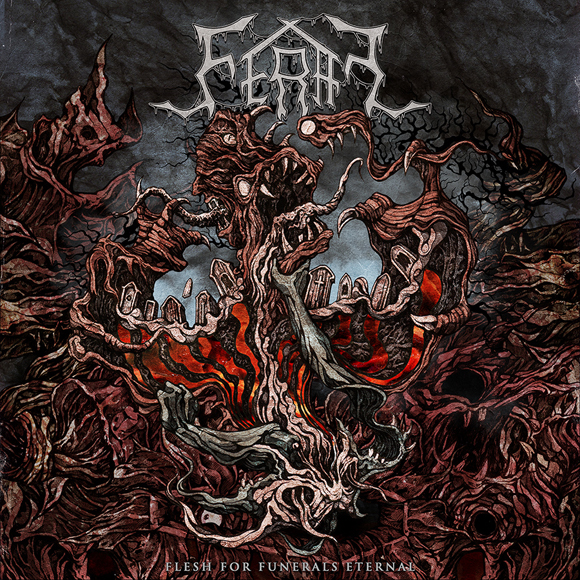 The cover art has been done by Costin Chioreanu, and the album will be released through Transcending Obscurity Records later this year.
The album features ten tracks of furious death metal, sure to strip the meat from your bones.
To be available as a gatefold LP, 6-panel digipack CD, digitally, as well as the boxed sets that Transcending Obscurity Records are known for.
Stay tuned for more info, music and detailed pre-order info.
Comment by the band:
"Finally! We have been waiting to reveal this fantastic piece of art done by Costin for quite som time now. It really catches the essence of the album as a whole, looking like the scarier older brother of our previous full length album. Rest assured that the music will deliver no less. Get ready, because these funerals have no end, and there is flesh to go around for eternity, FLESH FOR FUNERALS ETERNAL!"
FERAL is:
David Nilsson – Vocals
Viktor Klingstedt – Bass
Markus Lindahl – Guitar
Sebastian Lejon – GuitarRoger Markström – Drums
FERAL online
Facebook: www.facebook.com/feralswe
Youtube: www.youtube.com/feralswe
Website: www.feral.se
TRANSCENDING OBSCURITY RECORDS ONLINE:
Facebook: http://www.facebook.com/transcendingobscurityrecords
Website: http://www.tometal.com