Thomas interviews Miguel 'Meegs' Rascón from Coal Chamber (May 2015)
They were one of the prime exponents for the nu metal movement. Hated by metal purists, revered by hordes of teens during the mid to late nineties with spiked hair and piercings, COAL CHAMBER offered an even darker sound than nu metal god fathers Korn and a quirky stage show.
This writer thinks back on a particular 1997 gig in Glasgow where Coal Chamber supported Machine Head, Napalm Death and Skinlab and offered something that was so different and cool that they kind of blew the rest of the billing away that evening.
Now, 12 years after the band went down in the flames of internal disagreements and sent its lead singer on to tour the world with DevilDriver, and after a number of successful reunion concerts since 2011, Coal Chamber finally lashes back at the world with the new album.
The Power Of Metal.dk sent guitarist and founding member Meegs a bunch of questions to learn more about the new album and the current state of the band.
Hi Meegs! Good to see and hear that Coal Chamber is back as a recording artist. Did you expect this when you came together for the reunion gigs back in 2011?
We didn't have any expectations. We just wanted to rekindle the friendship we once had and have a good time. No pressure. The reunion shows went so well, and the chemistry was so strong, we started talking about recording after that.
Anyone who's been following metal music the past decade or so will know that Dez has roamed the stages of the world with DevilDriver. But how about yourself, Mike and Nadja? What have you been up to since Coal Chamber disbanded?
Well, we've all been busy doing other projects and keeping busy. Mikey and i have been doing We are the Riot, our other project.
Some will probably wonder why [original Coal Chamber bassist] Rayna is not part of the reunited line-up. Are you in contact with her at all?
Not whatsoever. Nadja has been with the band so much longer, she's the bassist for CC. Rayna decided to get out of the limelight and we have no contact with her. No bad blood. Just the way it is.
Most Coal Chamber fans from back in the day will surely feel that 'Rivals' is a bit like coming home. It has your trademark sound, it's got the approach to song writing that we know from the three first albums. How is it different from your other releases in your opinion? Is it?
Well, the camaraderie and maturity of the band is strong now, so that definitely shows with our songwriting. Vocally and musically, it's on a new level. Very happy with the results!
Which one of the songs of the album means the most to you?
That's a hard one, since i'm in love with all the songs! lol.can't pick a favourite one. They're our babies!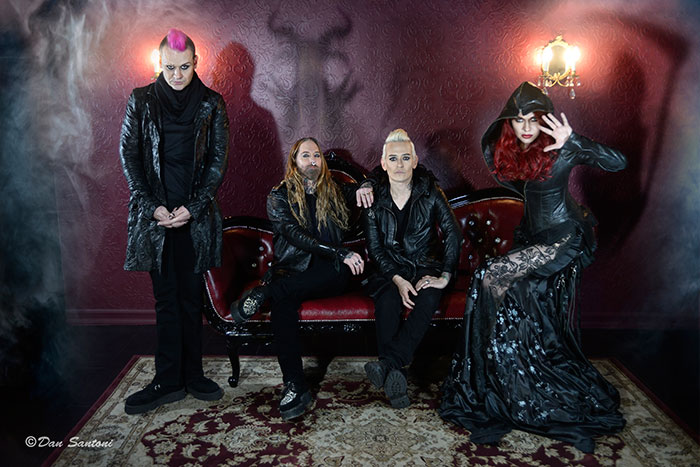 We've read about your disagreements in the band in the past. Disagreements often appear when you're either stressed or bored, i.e. on the road or in the studio. What did you do to avoid getting on each other's tits when recording 'Rivals'?
U know, this time around, there was no stress or weirdness on the band. We were in sync and definitely on the same page, so the writing and recording went smooth as hell. It was very magical in that sense.
How did you develop your playing style during the beginning of the nineties, and who inspired you as a guitarist?
My style was a combination of being adventurous and rebellious against "normal" guitar playing. I was young and bold and just plain fucking wacky lol! I would try anything. Still to this day!
How do you feel about the whole nu metal genre today? Were you actually conscious about being parst of a genre as such back in the nineties?
That title was made up after we came out into the scene, along with some other bands. Very proud to be part of that movement. It was different. Crazy and musically exciting.
Looking back, which were the greatest moments in the history of Coal Chamber so far?
Well, i think the making of "Rivals" is up there. Coming back after 13 years, and rekindling the brotherhood, is a miracle in itself. One great memory for the books.
How do you prioritise Coal Chamber now? Is the band all you do, or do you engage in other projects (beside your family)?
Coal Chamber is priority of course, but like I said earlier, Mikey and I have "We are the Riot" back home. Nothing like CC. It's aggressive melodic hard rock.
You're embarking on a European tour just now. Are there plans for Coal Chamber beyond that tour, or do you take one step at a time?
We have other tours lined up after the European run. We are definitely giving this record a full touring cycle run.
Finally, the traditional best-of question! What does your all-time album top five look like?
1. Mötley Crüe – "Shout at the Devil" 2. Metallica – "Master of Puppets" 3. Pantera – "Vulgar Display of Power 4. Alice in Chains – "Dirt" 5. Snoop Dogg – "Doggy Style
Thanks a million for answering these question, Meegs – any last rants for our readers?
Thank u all for the support and loyalty after all these years! We are humbled and honored to play these songs for all our fans out there! We love u!