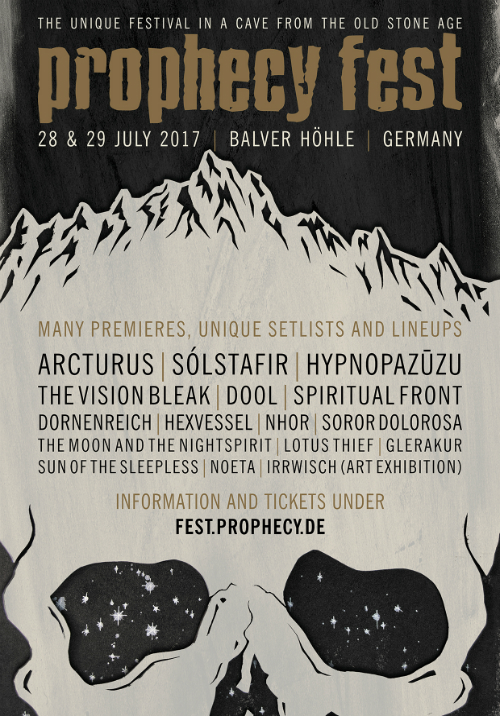 http://en.prophecy.de/prophecy-fest/ (festival info)
http://live.weltnetz.lu/en/titel/prophecy-fest-28-07-29-07-2017-balve/ (tickets)
Here's what the press says about the previous two festivals:
"Prophecy Fest is up there with small-scale, passion-driven fests like Iceland's Eistnaflug and the most hallowed of them all, Roadburn." NOISEY
"Festivals preferring quality over quantity and conveying a very distinct atmosphere are few and far between. Prophecy Fest is one of these exquisite events." METAL HAMMER
"Prophecy Fest is a masterpiece, driven by passion and carving out its own niche." METAL.DE
"Prophecy Fest slows down the hustle and bustle of festivals. It gives the musical experience a space to unfold, dodges party culture and puts art back onto a pedestal." SILENCE-MAGAZIN.DE
BILLING PROPHECY FEST 2017
Arcturus Sólstafir Hypnopazūzu – David Tibet (Current 93) & Youth (Killing Joke) – first concert in Germany.The Vision Bleak – special performance with a classical ensemble of strings, percussion and vocals. Dornenreich – exclusive acoustic history set. Dool – exclusive set with additional musicians and singers. Hexvessel – extended performance with implemented acoustic set. Spiritual Front – special "Armageddon Gigolo" set for Prophecy Fest 2017!
Sun Of The Sleepless – Schwadorf's (Empyrium/The Vision Bleak) first concert since 1999, second ever. The Moon And The Nightspirit – special show with enhanced line-up. Lotus Thief – European premiere. Soror Dolorosa – performing "Severance" in its entirety for the first time & presenting their the new album "Apollo".
GlerAkur – the band surprised us and blew us away with their performance at Prophecy Fest 2016. It was an easy decision for us to invite them again.
NOÊTA – their first concert outside Scandinavia at this year's Prophecy Fest!
Nhor world premiere performance at this year's Prophecy Fest! Irrwisch – art director and exhibition.